Waterstops & Expansion Joints
Waterstops and Expansion Joints
Waterstops with expansion capabilities that not only provide better seals, but can fill voids and seals cracks.
The broad product range and installation versatility of our waterproofing systems allow you to work with a single manufacturer to cover all of your waterproofing needs. From zero-lot property line construction to backfilled foundation walls to under slab and plaza deck application, CETCO has the waterproofing solution that fit your need.
The CXJ series expansion joints have a unique double-level flange design for high-movement capability.
The center gland geometric shape is purpose-designed for low strain during movement for optimal performance. The system consists of an extruded, thermoplastic, dual gland expansion joint seals with integrated side flanges that can be integrated with CETCO's waterproofing systems to create a true single source waterproofing system.
AKWASTOP
A hydrophilic rubber waterstop, AKWASTOP swells up to 300% upon contact with water and provides a consistent seal along the entire installation. It prevents water infiltration through cast-in-place concrete construction joints subjected to continuous or intermittent hydrostatic pressure.
TECHNICAL DATA SHEET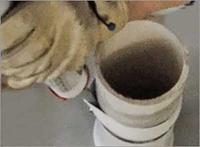 AKWASWELL
A polyurethane-based caulk grade swelling paste, AKWASWELL is used primarily to seal rough surfaces in concrete construction joints. Swelling up to 500% of its initial volume when hydrated by water, it creates a positive seal and stops the flow of water through the joint and is suitable for low to moderate hydostatic pressure conditions.
TECHNICAL DATA SHEET
CXJ-SERIES
Used to waterproof structural concrete expansion joints for positive-side below grade foundation walls and under structural slabs, CXJ-200 and CXJ-400 consists of an extruded, thermoplastic, dual gland expansion joint seals with integrated side flanges. Movement at the joint is accommodated by the geometric shape of the double-cell, center gland configuration with two material layers to form the system.
TECHNICAL DATA SHEETS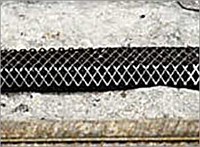 REVOFIX
REVO-FIX is a profiled expanded metal mesh strip designed for mechanically fixing WATERSTOP-RX and WATERSTOP-XP to cast-in-place concrete surfaces. Revo-Fix can be used as an alternative method to CETSEAL. Available in two sizes.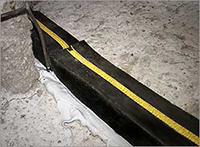 WATERSTOP RX
An active, flexible strip concrete construction joint waterstop, WATERSTOP-RX provides a strong positive seal by expanding upon contact with water. Proven effective on projects worldwide for over 20 years, Waterstop-RX is designed for both continuous and intermittent hydrostatic conditions. WATERSTOP-RX is available in multiple configurations.
TECHNICAL DATA SHEET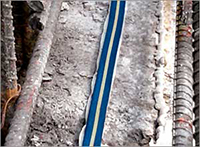 WATERSTOP XP
The next generation of waterstop that expands upon contact with water to form a positive seal to stop water ingress through cast-in-place concrete construction joints and around pipe penetrations. Through the use of the patented XP technology, WATERSTOP® XP is proven effective in a wide range of contaminated environments.
TECHNICAL DATA SHEET
Approval and Certifications
Architectural Specifications
Leed Letter
Product Manuals
Product Sheets
Technical Data Sheets